Throughout the last couple of months, we have seen an increased demand for digital touch and touchless technology. Many businesses are finding solutions such as touch screen kiosks, digital posters, and body temperature screening kiosks to improve their customer experience and business efficiency.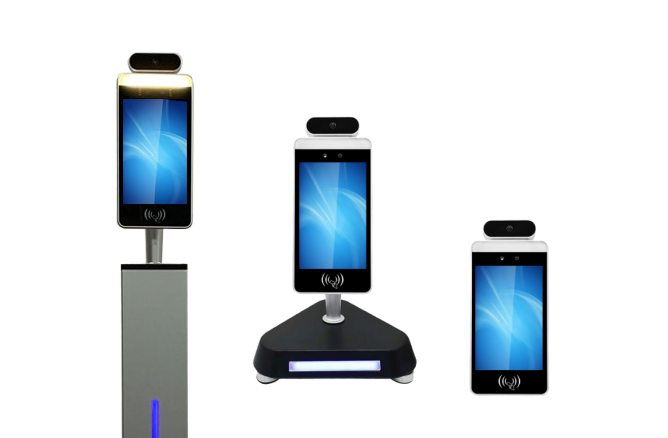 One of the biggest industries looking for these touchscreen technology solutions is the healthcare industry. There's no doubt that healthcare provides work hard, with their long hours and crazy schedules, that's why we do everything we can to make their work more efficient and productive. In this post, we will outline some of the benefits that come with touchscreen displays as well as body temperature screening kiosks.
Touchscreens Improve Productivity 
Digital touchscreen displays and monitors make it easier to access patient records, it also allows easy check-in. No more need for paper and hard copies, touchscreens allow doctors and nurses to find patient's records quickly and efficiently and keep everything up to date. With healthcare providers time is of the essence and touchscreens can help make that time more sufficient, it also improves communication between patients and staff.
Save Time and Money
Interactive screens are convenient and straightforward, they keep patients informed and with easy access to information that takes less time than waiting for someone to answer your questions. These touchscreen kiosks can be placed on waiting rooms and lobbies and also make checking in much quicker. With multiple kiosk stations, more patients can check-in without waiting for available staff and can disclose information in a more private way.
Safer for patients and staff
With body temperature screening kiosks, walking into a doctor's office is now safe and proactive. Without having to take off a mask the face recognition makes it easier and faster to get screened.
Wayfinding and Information
Digital signage is a great way to provide tips and directions for patients and staff. Often Hospitals, medical offices and clinic can be tricky to find certain locations, and with digital maps around these locations would make wayfinding simple and effortless and decreases face-to-face interaction. These digital screens can also be effective ways of providing information to patients, with tips and information that reduces patients getting up and asking a healthcare provider. Overall, touchscreen technology and digital signage are revolutionizing the healthcare industry and making it easier for healthcare providers. They are sanitary ways of providing information, saving time, improving productivity, and last but not least safe.
Click here
to check out some of our healthcare products.