The Benefits of Using Interactive Touchscreen Displays
In many commercial corporate settings and projects, interactive touchscreen displays are becoming a standard technology element. With each new generation of commercial-grade monitors, the features get more complex. Despite this, user interfaces are now easier to navigate and utilize than they have ever been. Plus, compared to the past, industrial and commercial displays are far more cheap and easy to maintain. When it comes to creating modern interactive touchscreen displays, accessibility and consistency are critical. If you're unsure whether an interactive touchscreen display is a good investment for your company, keep reading to discover more about the advantages of commercial and industrial touchscreen displays.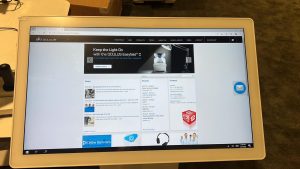 ­­ Interactive and engaging In public situations, interactive touchscreen displays naturally attract people and engage them in the subject being exhibited. They transition from being passive audience members to active participants in the presentation. Increased customer interaction leads to a higher level of brand recognition, education, and loyalty. Using engaging activations to provide an appealing and exciting customer experience effectively cements the customer-brand relationship.
Interactive touchscreen displays
are a terrific way to create a personalized and memorable customer experience, whether you're giving a product demonstration or presenting your brand catalog on a self-serve kiosk. Simple to Clean and Maintain Touchscreen screens for industrial and commercial use are relatively simple to clean and maintain. A soft microfiber cloth can be used to remove fingerprint smudges and marks. Modern touchscreen displays also include tough casings that keep dust, water, and other debris from penetrating the surface and causing harm to the inside. Resilience and Durability These displays include particular protection characteristics that assure outstanding long-term performance because they are designed for industrial and commercial applications. Interactive touchscreen displays use are designed to last a long time and withstand a variety of harsh environmental conditions and heavy use. Interactive touchscreen displays can be custom-tailored to the precise specifications required by various applications, making them ideal for grocery stores, restaurants, retail stores, warehouses, distribution centers, medical institutions, and even military and naval activities. For commercial and industrial settings, Popshap produces world-class completely customized touchscreen screens. Our displays are unrivaled in terms of sunlight readability, brightness adjustment, infrared illumination, full backlighting, all-weather capabilities, and so on. To learn more, please contact us immediately.