Interactive kiosks at AI-volution for Culture
September, 2023. New York, NY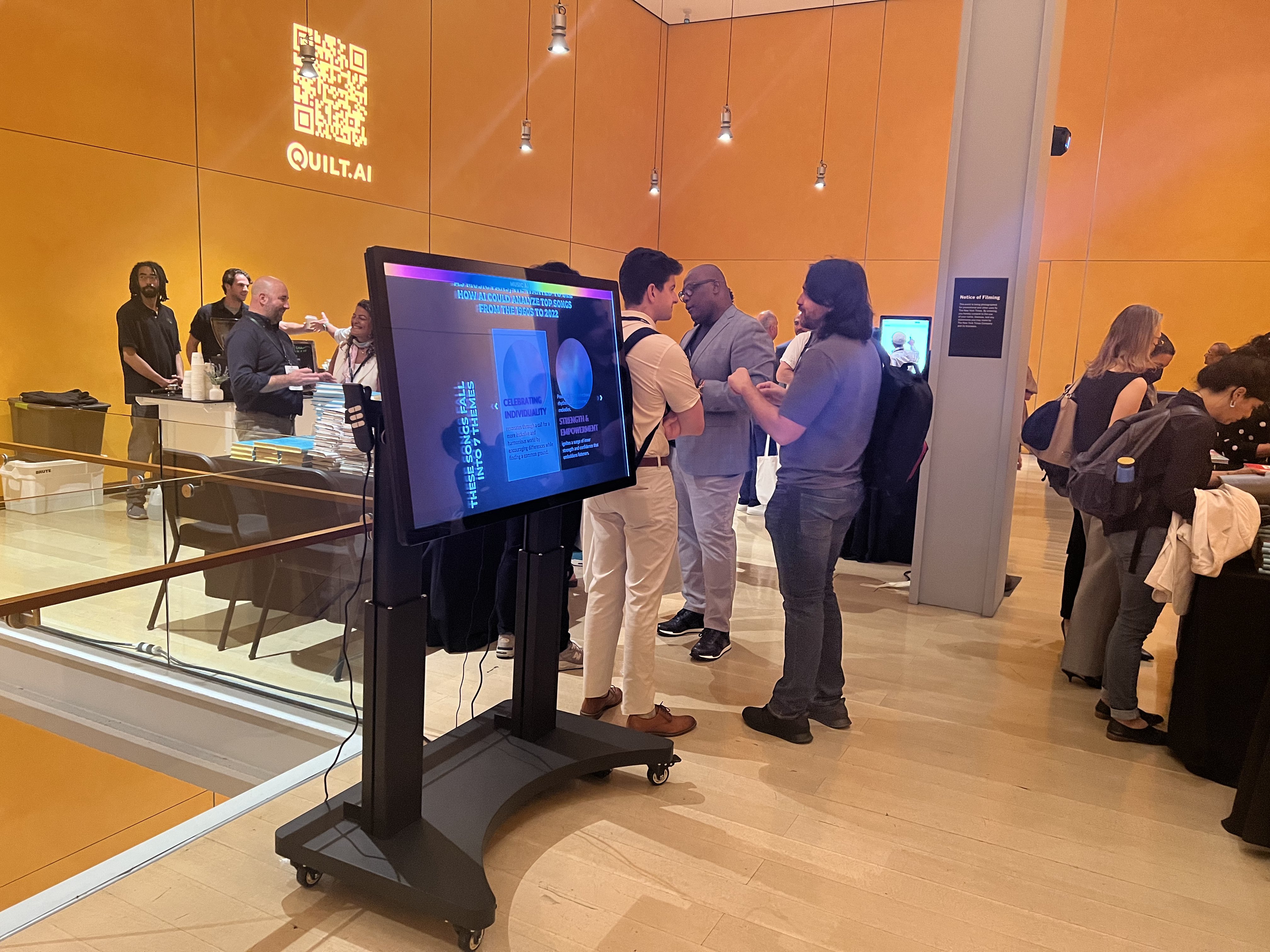 OVERVIEW
Popshap proudly furnished Quilt AI with a trio of interactive kiosks for their participation in AI-volution for Culture, a pioneering event dedicated to exploring the intersection of artificial intelligence and cultural experiences. Our deployment included two 49-inch motorized kiosks and one 49-inch standing kiosk, elevating their digital presence to new heights. What sets the motorized kiosks apart is their adaptability, seamlessly transitioning between a standing kiosk and a table kiosk, making them ideal for live demonstrations and special presentations. The standing kiosk served as a centralized information hub for event attendees, providing easy access to crucial details.
SOLUTION
Complementing our interactive kiosk hardware, we delivered specialized software for the motorized kiosks in the form of an interactive PDF. This unique software allowed guests to explore how the future is increasingly sonic, demonstrating how AI can analyze top songs and offering interactive features that let attendees delve into songs from their birth year and much more. The combination of our interactive kiosks and innovative software contributed to a captivating and informative experience at AI-volution for Culture, shedding light on the exciting possibilities of AI in the world of cultural experiences.
CAPABILITIES
In closing, Popshap is dedicated to pushing the boundaries of innovation and technology to create memorable and engaging experiences for events like AI-volution for Culture. We believe that the combination of cutting-edge interactive kiosks and specialized software can truly transform the way people interact with AI and cultural content.