How Leading Companies Are Using Contactless Check-In Kiosk
COVID-19 urged a demand for a contactless check-in kiosk, and now the leading brand, Marriott is leaning into this by testing its new contactless kiosks and market places, removing the need for face-to-face check-ins or snack purchases. Stephanie Linnartz, the president of Marriott International, has confirmed in a press release that COVID-19 has pressed the need for contactless services. This echoes the feelings shared across numerous industries, from real estate, credit card companies to airlines.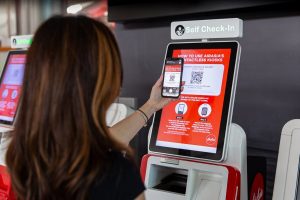 The contactless check-in kiosk, which helps speed up the reception desk process, can already be seen at several Marriott sites. Visitors can also grab their room keys from the kiosks, which are furnished with touchscreens that have "antimicrobial technology." Upon departure, guests can also opt to check out from the same contactless check-in kiosks, eliminating the need for any in-person exchanges. Likewise, the hotel giant is also testing its "grab-and-go marketplace" at two Maryland sites: the Fairfield Inn and Suites Frederick, and the Fairfield Inn and Suites Arundel Mills BWI Airport. Yearning for a hot breakfast sandwich or a little cup of oatmeal? Just head to their marketplace kiosks. These stands will offer an assortment of both hot and cold snacks and drinks, containing the daily complimentary breakfast. Payments can then be made directly at the contactless check-in kiosk. Marriott's push for contactless amenities isn't new. The hotel giant already has contactless structures that can be accessed through the Marriott Bonvoy app, plus check-ins and outs, the room key, food orders, and service requests. The new kiosk offerings "help streamline operations," states Marriott. However, the hotel giant won't be going fully digital, and as an alternative is looking to "blend" contactless options with face-to-face connections, says Linnartz.