How Companies are Leveraging Outdoor Digital Signage to Improve Customer Experience
Outdoor digital signage can offer a superior experience by streamlining practices that might otherwise require long wait times or unproductive searching. Countless business objectives can be achieved with outdoor digital signage to increase ROI. We've defined a few key examples and the workings needed to create the best customer experience.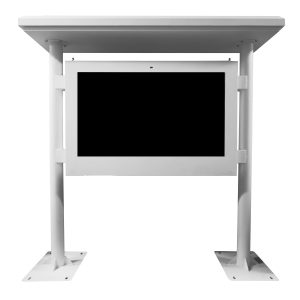 Payments Bill pay outdoor kiosks enable customers to independently complete electronic payment transactions using a safe, reliable platform. Mechanisms could include EMV2 and PCI compliant chip reader and pin pad, note acceptors and dispensers, note recyclers, coin acceptors and/or machines, and check acceptor and/or scanner. While the cases above signify a range of outdoor use cases, we've also encountered many unique solutions that need entirely custom components. Retailing and Dispensing Retailing and dispensing digital kiosks provide a safe and cost-effective solution that acts as an unattended storefront and offers customers a fully computerized sales experience. Workings may comprise card dispensers, unattended payment devices, thermal printers, and optical 1D/2D scanners. Information These interactive kiosks can be leveraged by galleries, universities, and other establishments to educate visitors and customers alike. The solution increases customer experience by offering guests a chance to browse and search for information at their convenience. Ticketing Self-serving ticketing kiosks provide consumers the option to purchase tickets instantaneously. The digital self-service ticketing solution acts as a customer-facing point of sale, allowing companies to rearrange labor to more compound service-oriented tasks. Components should include a ticket printer, optical scanner, EMV compliant chip reader, and pin pad. Safe Check-ins Self-service check-in solutions allow guests to check-in for meetings and events at their leisure. Check-in kiosks can scan IDs, capture photos, print badges for guests, and more. Features for these solutions normally include a camera, badge/label printer, and biometrics devices such as a retina scanner, palm vein readers, etc. Regardless of the use case, it's vital to remember that the definitive goal is to offer a reliable device that enhances the user experience, leading to higher engagement and increased ROI.