Beyond Interactive with Popshap Podcasts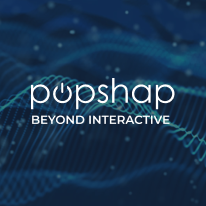 Designing for Digital Signage at Trade Shows with Mel White from Classic Exhibits
Digital and interactive technologies are a relatively new element on the exhibition floor, so how should the industry approach designing for digital signage at trade shows? Popshap is honored to be joined by Mel White, VP of Marketing/Business Development at Classic Exhibits, to share our experiences in how trade show exhibit companies can successfully partner with technology solutions providers to create impressive results for the exhibiting client. Classic Exhibits' extensive network of distributors and long tenure in the trade show industry inform this conversation that follows the progression of digital signage in exhibitor booths - from the widespread use of passive video monitors, to the learning curve required to understand how to make digital interactive and to create engagement at events. By understanding the unique benefits digital offers exhibitors, the design of trade show booths can incorporate these technologies to create a more engaging space, with greater opportunities to invite attendees into conversation, regardless of the exhibition space or budget.
Latest Episodes
What the Popshap? Get to Know Popshap in 2023 with Eitan Magid
CEO Eitan Magid introduces Popshap as it exists in 2023, along with the launch of the Beyond Interactive podcast and upcoming discussions with key industry players.