Product Specs
Android, Windows, iOS, Standalone, Driver Board
Android - 2 + 8G, Windows - 4G SSD, 64- 256G HHD 32D/500G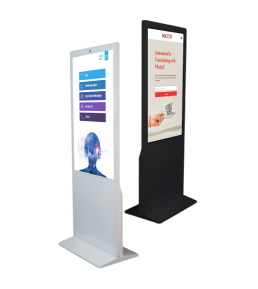 Digital signage kiosks are a great way to engage with customers, automate tasks, and improve the overall customer experience. Our interactive kiosks were designed to help you utilize your customers, guest, and clients in a more efficient, safe, and cost-effective way. The instinctual use, numerous integrations, and stress-free serviceability make our digital signage kiosk an ideal choice for your business.
Our 27 inch touchscreen kiosk is perfect for any retail locations, in-store advertising or to show a schedule of events for a conference. This touchscreen kiosk also comes with built-in shelves, which can be used to store flyers or other marketing materials. It also comes in a flight case, making it easy and flexible for travel and setup. Popshap also provides personalization of the kiosks with custom colors and adds logos to fit your brand. Contact us today to learn more about this great product!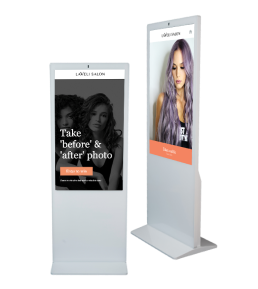 An interactive touch screen computer can be found in a standing touch screen kiosk. It can be updated with hardware like card readers, cameras, scanners, or printers to meet the demands of your business. You may also use USB connections for data downloads.